Patented Integrated Balloon Design's Foley Catheter With Fixpad® Anchoring Device
For years, patient comfort is a primary focus of our goals of patient care.
We are delighted to officially announce the launch of our brand new product!
"Fortune" Urological catheter with FixPad®
The package includes two products, Silicone Foley Integrated balloon catheters, and FixPad® Anchoring devices. When placing Foley catheter, medical staffs can take out a FixPad® from package and using it together.
The reason we select our patented integrated balloon design's Foley catheter is because the integrated balloon allows patient to greatly reduce discomfort when inserting the catheter.
FixPad® anchoring device provides sufficient support for the catheter, allowing patient to move easily. Waterproof design allows patient to shower with confidence.
Therefore, providing this combination means a lot to patient. The patient will feel comfortable during the whole process and free to move after finish aforementioned process.
Note 1: Integrated balloon with a smooth surface to effectively reduce discomfort during insertion and withdraw.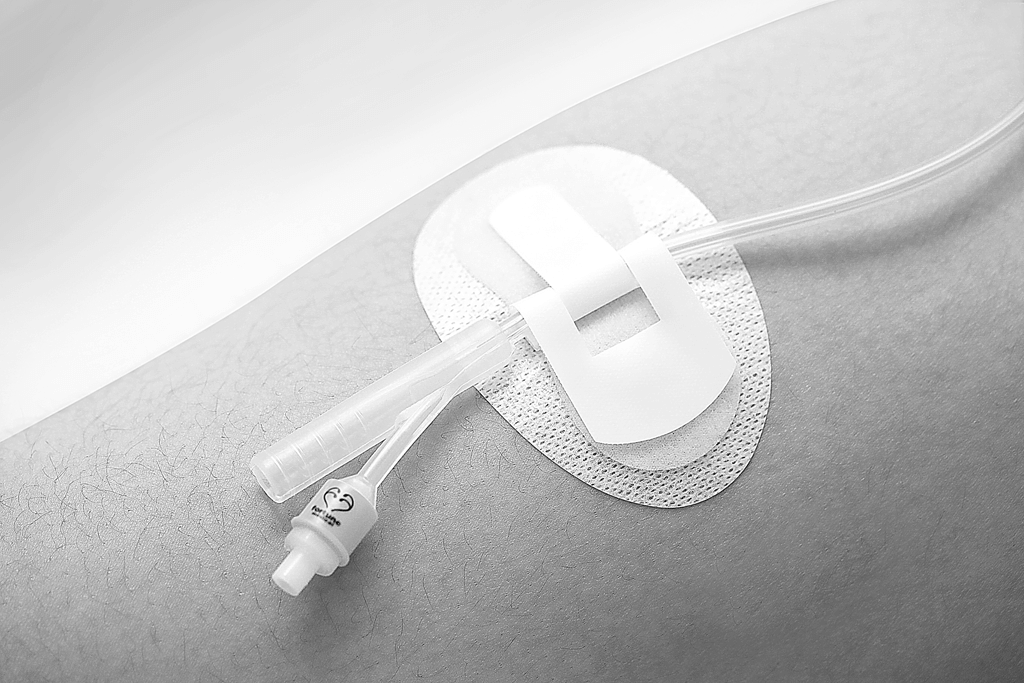 Note 2: Applicable to the round catheter products, the outer diameter is between 3mm to 12mm (that is, 9FR to 36FR) or an equal circumference catheter.
---
SPECIFICATION
Foley Integrated Balloon Catheter
REF.NO
Size
Balloon
Length
Description
4822-0512
12FR
5~10cc/ml
420mm
– Integrated balloon

– X-ray opaque line

– Catheter spigot

4822-0514
14FR
4822-0516
16FR
4822-0518
18FR
4822-0520
20FR
4822-0522
22FR
4822-0524
24FR
4822-0526
26FR
Foley Integrated Balloon Catheter, Long-Term balloon
REF.NO
Size
Balloon
Length
Description
4833-0512
12FR
5~10cc/ml
420mm
– Integrated, long term balloon
– X-ray opaque line
– Catheter spigot
4833-0514
14FR
4833-0516
16FR
4833-0518
18FR
4833-0520
20FR
4833-0522
22FR
4833-0524
24FR
4833-0526
26FR
Silicone 2-Way Foley Integrated Balloon Catheter Sets
REF.NO
Size
Balloon
Length
Description
4822-3512
12FR
5~10cc/ml
420mm
– Integrated balloon
– X-ray opaque line
– Catheter spigot
– FixPad® anchoring
device
4822-3514
14FR
4822-3516
16FR
4822-3518
18FR
4822-3520
20FR
4822-3522
22FR
4822-3524
24FR
4822-3526
26FR
Fortune Fixpad® Anchoring Device
REF.NO
Size
Outer Diameter
1800-0005
106×65 mm
3mm to 12mm (9FR to 36FR)